Partners
---
The 3rd National Asian American Theater Conference and Festival is proud to be partnering with other Asian American Performing Arts events around town. Discounts are offered to the following events to attendees of the Asian American Theater Conference and Festival, Theater Communications Group (TCG) Conference attendees, Radar LA attendees and Hollywood Fringe Festival attendees. Please contact individual theaters for more information.
---
Colony Theatre
Year Zero
by Michael Golamco
West Coast Premiere, June 1 – July 3, 2011
How do you move forward in life when you're stuck where you are? In Long Beach, CA, two young Cambodian-Americans search for an answer. Vuthy is a lonely 16-year-old who loves hip hop and Dungeons & Dragons. His ambitious older sister is starting to veer from her steadfast path to higher education and assimilation. With great humor and a modern sensibility, Year Zero sensitively explores how to escape a painful past while honoring the legacy of one's own history. It's a contemporary comedic drama about reinvention, redemption, and finding where we belong. [Contains Strong Language]
"A very smart, sweet, honest and uncommonly moving new play. Michael Golamco is a significant new dramatic voice." — Chicago Tribune
For more info, visit: Year Zero
---
Company of Angels
Sun Sisters
by S. Vasanti Saxena
West Coast Premiere, July 30 – August 28, 2011
A poised, professor of architecture, Edward, reveals his theories about the changing elements of a building's exterior against an unchanging interior. Who is this man? As he narrates the play, we come to meet Angie, still a spitfire in her sunset years who is battling the final stages of cancer. Jess, Angie's openly gay daughter, has returned home to care for her mother in these last days. Their strained relationship over Jess's "lifestyle" is escalated when Jess hints that she might be pregnant. As the two women try to bridge the chasm and heal old and fresh wounds, Angie looks to the past to recount and reexamine her life's choices. These bittersweet memories—a result of the struggle between Angie's yearning to live by her own heart and the restrictions of her cultural traditions—come to life before her. As Angie's dementia sets in, she can no longer separate the present from the past, and the secret that has consumed her is finally unveiled—including the mystery behind Edward.
Open Rehearsal for National Asian American Theater Conference and Festival Attendees
Wednesday, June 22nd, 7:30 p.m. FREE but RSVP is recommended.
RSVP by June 21st to sunsisters.coa@gmail.com with your name and number of guests attending.
Audience members will receive a 40% discount towards a future ticket purchase for the show.
Company of Angels at The Alexandria
3rd Floor, 501 S. Spring Street
Los Angeles, CA 90013
For more info, visit: Company of Angels
---
East West Players
Krunk Fu Battle Battle
Book by Qui Nguyen
Lyrics by Beau Sia
Vocal Music by Marc Macalintal
Dance music provided by Rynan Paguio and Jason Tyler Chong
Directed by Tim Dang
Musical Direction by Marc Macalintal
Choreography by Jason Tyler Chong
World Premiere Musical, May 12 – June 26, 2011
Under the guidance of Sir Master Cert, young Norman Lee battles the baddest b-boy crew at Sunset Park High for respect, honor, and the heart of sweet Cindy Chang.  A hip-hop musical extravaganza!
Generous Support for this production is provided by the S. Mark Taper Foundation Endowment for East West Players
Use code CAATA50 to receive 50% off tickets (subject to availability). Purchase tickets online and by phone.
For more info, visit: Krunk Fu Battle Battle
---
Geffen Playhouse
Extraordinary Chambers
Written by David Wiener
Directed by Pam MacKinnon
May 24 – July 3, 2011
Featuring Francois Chau, Kimiko Gelman, Marin Hinkle, Greg Watanabe and Mather Zickel
As the Khmer Rouge once again attracts international attention, this world premiere play gets to the heart of the headlines. When Carter, an American telecom executive, brings his wife Mara on a business trip to Cambodia, he never imagines that the ghosts of this beautiful country will find a way to haunt their lives. As business deals unravel and personal negotiations brim with political consequences, Carter and Mara must decide if the salvation of one life is worth sacrificing the justice of many. Head west of downtown L.A. for an experience you can only find in the intimate Audrey Skirball Kenis Theater at the Geffen Playhouse.
$40 tickets for conference and festival attendees! Offer code: NAATCF (Valid for select performances through June 23)
For more info, visit: Extraordinary Chambers
Contact: (310) 208-5454
---
Grandmas, Grapes, and Gonggi-Nori
A lecture/video presentation by DAN KWONG
Wednesday evening, June 15, 7:00PM
An informal report on Dan's recent project in Korea. Kwong was awarded a Culture Exchange International grant by the L.A. Cultural Affairs Department to travel abroad and teach a personal storytelling workshop for elderly rural women on Seongam Island, South Korea. The project was hosted by the Gyeonggi Creation Center on Seongam Island, where he spent the month of February this year.
Come hear Dan talk and show video about what the students taught the teacher! A funny and enlightening evening…
National Center for the Preservation of Democracy
(next to Japanese American National Museum)
111 N. Central Ave.
Los Angeles, CA 90012
FREE
Please RSVP: dkbb12@aol.com
(310) 453-4544
www.dankwong.com
---
GTC Burbank
A Book By Its Cover
by Damon Chua
Directed by Kevin Cochran
June 25 – July 23 (preview June 24)
The production team that created Film Chinois (winner of the L.A. Ovation Award for Best World Premiere Play) reunites for Damon Chua's latest play. In 1996 Millie Wu and her husband Greg are living the American Dream in California. Meanwhile, her distant cousin is struggling to make ends meet in China. But what a difference ten years can make! Come join the journey as Millie explores the intricate paradox of being Chinese-American in a world where each country's fortune is ever changing.
For more info, visit: A Book By Its Cover
---
I Heart Hamas: And Other Things I'm Afraid to Tell You
Written and Performed by Jennifer Jajeh
Directed by W. Kamau Bell
Hollywood Fringe Festival: June 9-25, 2011
Jennifer is Palestinian. Well, Palestinian American. Or more precisely: a single, Catholic, first generation, Palestinian American woman who chooses to return to her parents' hometown of Ramallah at the start of the Second Intifada. Join her on American and Palestinian soil on auditions, bad dates, and across military checkpoints as she navigates the thorny terrain around Palestinian identity in this tragicomic solo show.
"Sometimes-humorous, sometimes-disturbing… her discoveries of what life in Ramallah is like for Palestinians may be revelatory for most Americans." – Chicago Tribune

$7.50 Discount Tickets for conference and festival attendees!
Offer code: NAATCF Purchase tickets here!
For more info, visit: I Heart Hamas
---
Kollaboration
Acoustic 5
Friday, June 17
8:30 p.m.
Ford Amphitheatre
2580 Cahuenga Blvd East
Hollywood, CA
$20 general admission, $30 VIP admission (preferred seating)
Kollaboration Acoustic 5 features some of the best emerging musical talents from Southern California's Asian/Pacific Islander (API) community. For more than a decade, Kollaboration has empowered talented API artists to pursue their creative dreams and, in doing so, help to inspire newer generations of talent. Competitors for Kollaboration Acoustic 5 include Alexa Yoshimoto, Chrizle Reyes, Ensemble Memo, Jason Yano, Lindsey Yung, The Mood Junkies, Nessa Rica, Teesa, and Tranley. The show will also feature special guest performances by comedian KT Tatara and singer/songwriter/Blue Note recording artist, Priscilla Ahn.
For more info, visit: Acoustic 5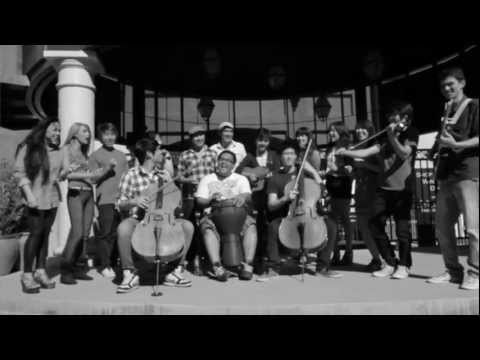 ---
Lucky: A Burlesque Tragedy
by Minerva Vier
Directed by Michael Kerns
Choreography by Amy Danielson
Help! Lucky's out of luck. Drunk & pregnant, this burlesque chick hits rock bottom! But don't despair – Filipina Mamas to the rescue! "Cher", "Marilyn Monroe", "Tura Satana" and other surprise guests intervene in Lucky's misfortunes through jazz, poetry, comedy & dance. Opening Act by Trapeze Freaky Flip.
Lucky: A Burlesque Tragedy is a pseudo-solo musical play as Lucky and the mamas (played by The Nerve of Minerva)
are joined onstage by pianist and the dirty old bastard of the club, Big Daddy Zachary.
$10 for National Asian American Theater Conference & Festival attendees!
For more information, visit Lucky: A Burlesque Tragedy
---
TAIKOPROJECT: Rhythmic Relations 2011
Featuring Bombu Taiko, Kitsune Taiko, & Loma Pacific Taiko
With Special Guest Ryutaro Kaneko
June 25
2:00pm and 7:30pm
JACCC Plaza, Little Tokyo
TAIKOPROJECT returns to the Little Tokyo after its highly-acclaimed productions at the John Anson Ford Amphitheatre with a pulse-pounding drumming spectacular showcasing their latest creative work. In the first half of the show, TAIKOPROJECT, Bombu Taiko, Kitsune Taiko, and Loma Pacific Taiko performs new arrangements of their signature works, and in the second half, Ryutaro Kaneko, one of the most famous taiko drummers in the world, joins TAIKOPROJECT in premiering collaborative new work. With nearly 80 taiko drummers onstage in the JACCC's open-air plaza, the show will rock with bass-pounding rhythms, energetic choreography, and creative musicianship.
For more information, visit TAIKOPROJECT